Want to up your home's game without burning a hole in your wallet? Fairy lights can do magic in giving your home a breath of fresh air. 
Most people think that fairy lights are decorations that work only for parties and the festive season. Yet, the truth is that you can use fairy lights to illuminate your home all year round. 
Although they are small, fairy lights can make a huge difference in your home's décor. Still not convinced? Here are 5 ways to decorate your home with fairy lights that are sure to convince you we're right.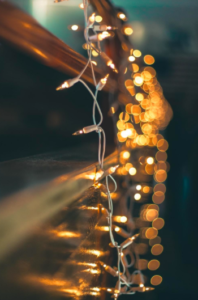 Frame artwork
If your artwork looks too basic hanged on your wall, framing it with fairy lights will literally go up in lights, but it will also add a chic gallery style to your home décor.   
You simply need small fairy lights because you don't want to distract the attention from the artwork but only to make it the centerpiece of the room. Next time your guests will enter that room, they will for sure not miss your painting. 
Hang them on a white wall 
Plain white walls can be a bit boring if there's nothing there to up their game. Luckily, hanging fairy lights is the cheapest and most creative way to transform a plain white wall into the centerpiece of a room. Fairy lights will add texture and help break up a blank space. 
Recycle old jars and bottles 
Have some old jars or wine bottles around your home? Don't throw them away! Instead, fill them with fairy lights, and you'll get yourself some great table decorations for festive dinners. 
You can also hang them on the walls and jazz up any room. For jars, you can also use some repurposed wood to frame the jar and add a rustic style to your home décor. 
Frame a mirror 
Give the mirror you have in your home the "Mirror, mirror on the wall" magical vibe by framing it with fairy lights. The lights will reflect in the mirror, illuminating the entire room. 
In fact, you can use fairy lights to frame pretty much everything around your home that you want to jazz up. The lights will add a magical atmosphere to any room of your home. 
Create a branch décor 
If you're a nature lover, you'll love this one! 
Look outside for some dry branches and bring them inside your house. Next, wrap them with fairy lights, and you've got yourself a rustic-like decoration. You can either hang the branches on the walls or place them in some pots. Either way, they'll give your home a chic rustic vibe. 
Decorate your patio 
The outdoor of your home is another space you can decorate with fairy lights. The patio area is a space where you get to relax and enjoy some time in nature. If you're looking for a more romantic and intimate atmosphere, fairy lights are the solution. You can either wrap your trees with fairy lights or hang the lights around the patio space.
The Wild Oak team love the outdoor fairy light range by Festoon House.  You can check out their extensive and very cool range here:  https://festoonhouse.com.au/fairy-lights